Riders Vent About Being Stuck on Train in Subway Meltdown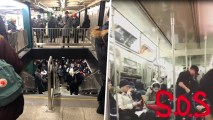 Straphangers took to social media Thursday night to vent about a hellacious evening commute on the F and G lines, with some reporting they were stuck in between stations for nearly two hours.
Photo Credit: @JoshMorrissey / @AnnaPeery
This story uses functionality that may not work in our app. Click here to open the story in your web browser.