'Rapping Teacher' From NJ Stars in New Windows 10 Commercial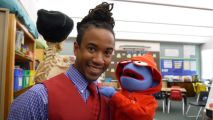 A New Jersey teacher is the star of a new Windows 10 commercial released earlier this week.
Photo Credit: Courtesy of Toney Jackson
This story uses functionality that may not work in our app. Click here to open the story in your web browser.