Incredible Footage Shows Dog Save Drowning Fawn Off Beach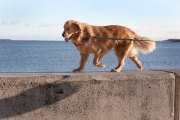 A golden retriever leaped into the waters off Long Island during a morning walk over the weekend and, after a furious swim, returned with a drowning fawn in its mouth, its owner says.
Photo Credit: Boston Globe via Getty Images
This story uses functionality that may not work in our app. Click here to open the story in your web browser.