NYC Bakery Announces It Is Closing Its Doors After 116 Years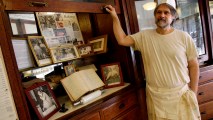 In a Facebook Post, Glaser's Bake Shop announced that it would be closing it's doors after 116 years of serving up pastries and plenty of love.
Photo Credit: AP
This story uses functionality that may not work in our app. Click here to open the story in your web browser.